Talking about slow fashion and easy ways to style a sari.
Ethic Attic – An ethical fashion brand
When I look back at my older posts it never ceases to amaze me at how many clothes have come and gone in my life. Yes, I have been that person who has bought clothes just for a shoot or just for one event, never to wear them again. It was about 3 years when I first tried my hand at styling one piece of clothing in multiple ways. At some level I was already working towards creating a more sustainable wardrobe and now more than ever, I am super conscious of it. I am wearing more of my clothes including my saris. I am making the effort to buy less fast fashion and I am trying to include a lot more fair trade and ethical fashion brands.
About Ethic Attic.
Ethic Attic is a slow and ethical fashion brand housed under FairKonnect organisation which ensures fair trade for the weavers and artisans. Ethic Attic focuses on using natural fibres and organic cotton for its clothing line. They have adopted sustainable production methods such as pollution-free dyeing and printing methods. You can head over here to learn more about them. What I am featuring today is a gorgeous dark blue linen sari. 
Linen saris are great for any time of the year and especially in the summer. I love that this sari takes up a different look when I change up the accessories and the hairstyle. I also find that linen saris are a dream to drape. I have never had an issue draping a linen sari and getting it to stay in place. I find that linens work great for a formal look, or a casual look, and possibly even an evening outlook, depending upon how you style it. Are you wondering whaaat??!! Well, keep reading to see how I have styled this linen sari from Ethic Attic.
Look 1. – Go Formal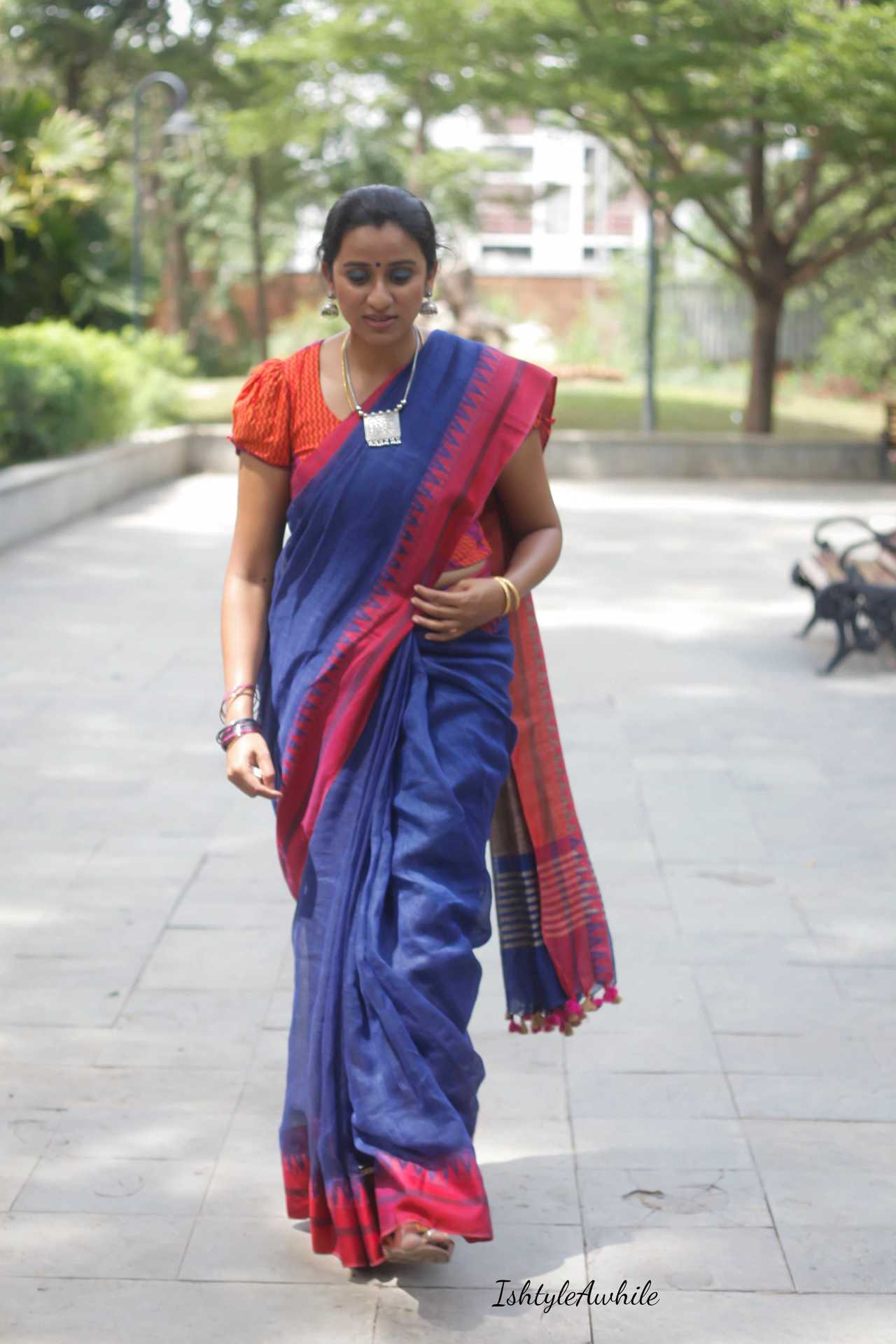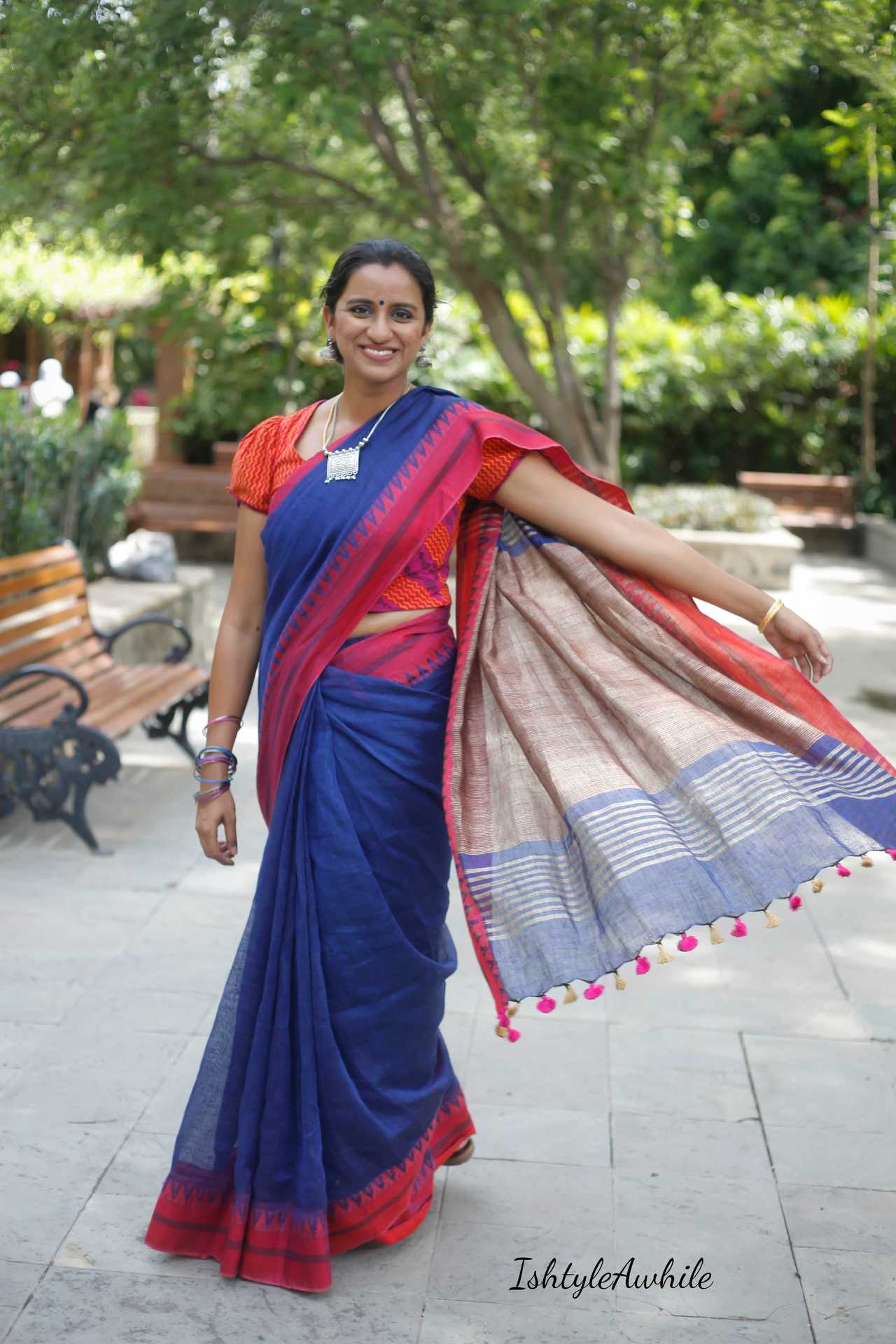 Here I brought out the teacher in me. Neat pleats, with oxidised metal jewellery that really stood out against the dark blue sari. I kept my hair in a bun, mostly because it was too hot. There is no way you won't be taken seriously if you went to work looking like this. Who says you need a blazer for a meeting. Next time try a linen sari with a bun and simple accessories. (P.S if you wondering whether I would wear smokey eyes to school, I have done that before.)
Look 2.- Keep it Casual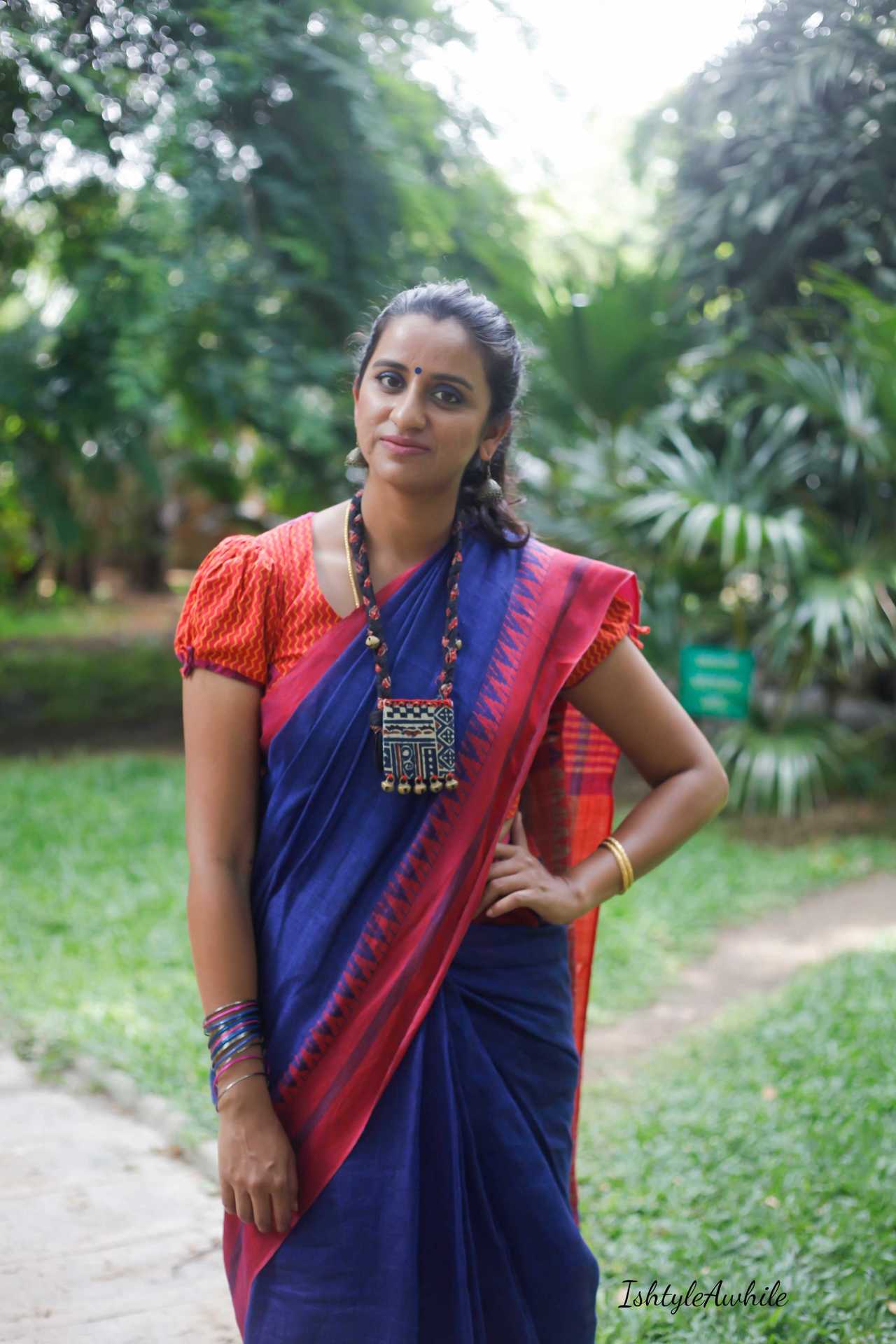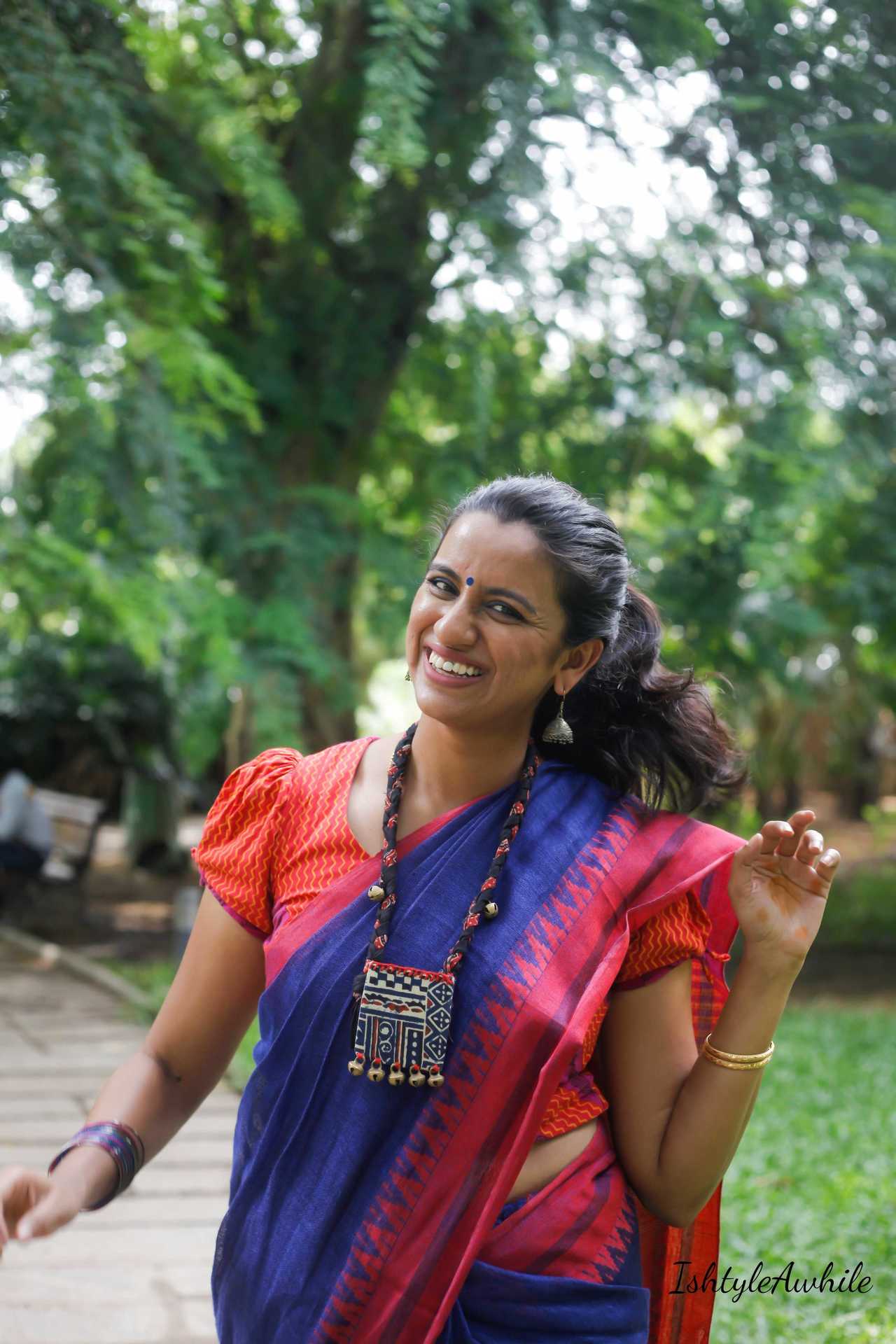 Bringing the hair down into a ponytail always make a look more casual and fun. I paired the sari with a cloth-based quirky neckpiece. This added an element of texture to the look as well as a more chilled-out feel. Umm… Who said you can't wear a sari for a lunch date with your girls.
Look 3- Sultry Vibes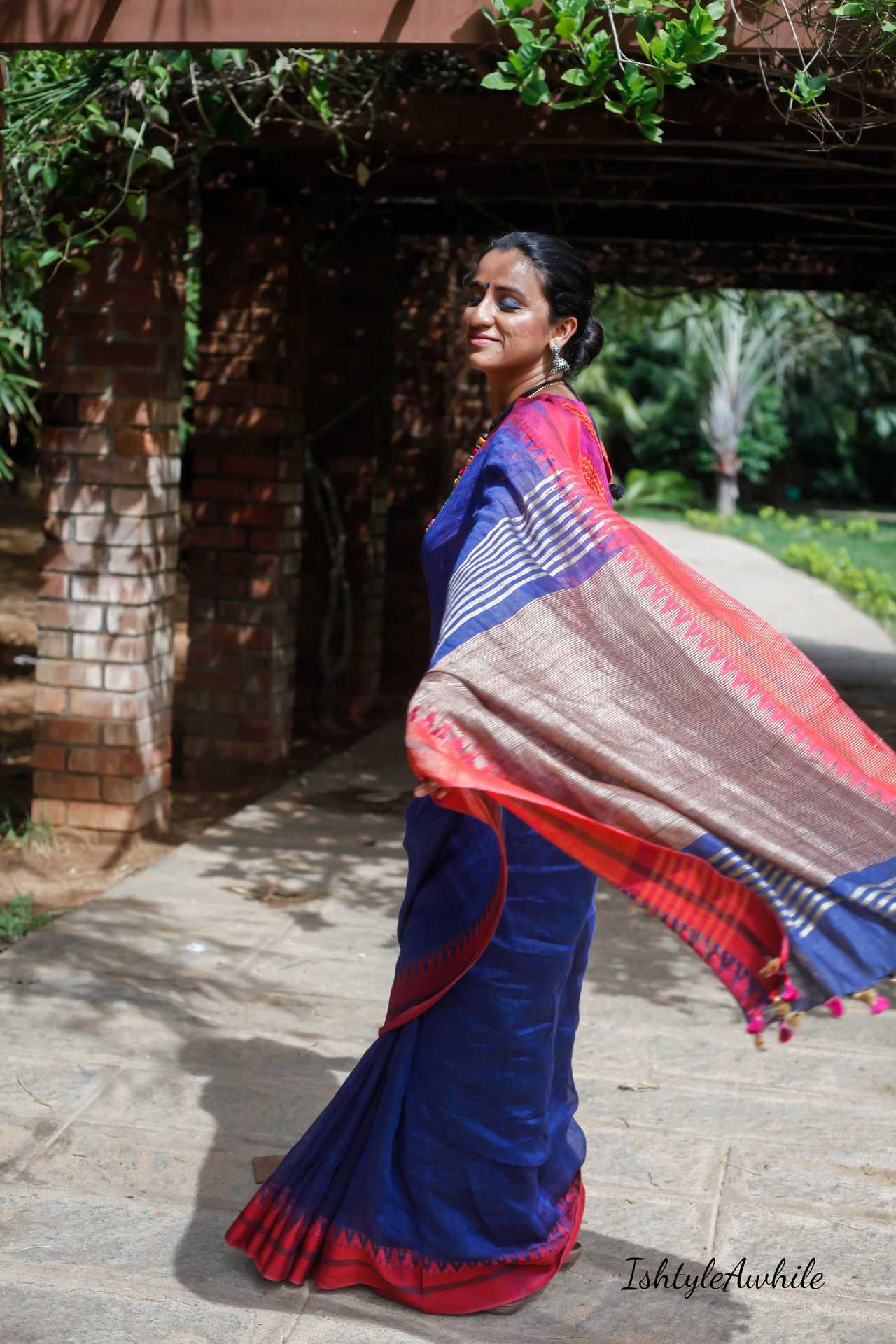 This is probably my favourite look of the 3. I added a nose ring, some silk thread jewellery and went back to a bun. I took down the pleats to give a more sultry sexy date night vibe. The one thing I do feel was missing would be kohl-rimmed eyes and heels. 
So there you go. One sari, styled in 3 ways by just changing up the accessories. Imagine the possibilities if you change up the blouse as well. (will definitely have a post about that when I do get another blouse for this stitched.)
Outfit details and Credits
Linen sari from Ethic Attic.
Blouse by Manjeri
Photography by Poornima reddy
Accessories in look 1 from The Pink Jhumki (neckpiece) and Aadvikas (earrings)
Accessories in look 2 from a blog sale
Accessories in look 3 from Kathya jewellery (nose ring), Anish Creationz (silk thread neckpiece)
Which of the three looks is your favourite? How else do you think I can style this? Drop your comments below. I would love to know.
miss kays
🙂