How to build a capsule wardrobe for the summer season
April saw me take part in a few interesting challenges that revolved around wearing a saree more often (not that I need a reason to) but I decided to challenge myself by having a theme of a Capsule wardrobe collection.
What is a capsule wardrobe?
The term was essentially coined in the 1970s, but popularized by a designer in the 1980s. A capsule wardrobe is a collection of essential clothing pieces that never go out of style and can be augmented by the addition of more seasonal pieces. Anyone who is into the idea of minimalism would embrace a capsule wardrobe because it is about fewer pieces but more useful. But is the capsule wardrobe only for those interested in minimalism?
Personally, I feel today we have far too many choices. We are all permanently overwhelmed by the variety around us in terms of brands, textures, fabrics, silhouettes and colours. I am not talking about just in stores, I am talking about our own wardrobes at home. While decluttering and keeping a check on the items we have is one aspect, the other aspect is utilising everything that we have. I feel the idea of a capsule wardrobe is perfect for this. It really shows you how versatile a garment can be and how many ways you can wear it, thus helping you get the most out of it.
How did I choose my capsule wardrobe for summer?
As a saree lover, I always knew that I wanted to try capsule wardrobe saree collections. It was definitely a bit of a challenge to figure out how many sarees and blouses I needed for the entire month. Ideally, I wanted to do 3 sarees and 3 blouses that could be worn a total of 9 ways. However, I had a bit of a mishap with one of the original blouses chosen for the challenge. It didn't fit and therefore I had no choice but to replace it. Sadly I could not replace it with another blouse but had to choose 2 blouses to compensate.
While choosing the sarees I ensured that I went for heat appropriate material sticking to light sarees with breathable material. For blouses, all of them were cotton.
The other thing I did was to take a look at what my itinerary for the month was so that I would have something to wear accordingly. I knew I had two weddings to attend and I did not want to have only casual wear pieces.
Overall it took me about an hour to sit and mix and match and choose all the pieces for the capsule wardrobe.
The items in the capsule wardrobe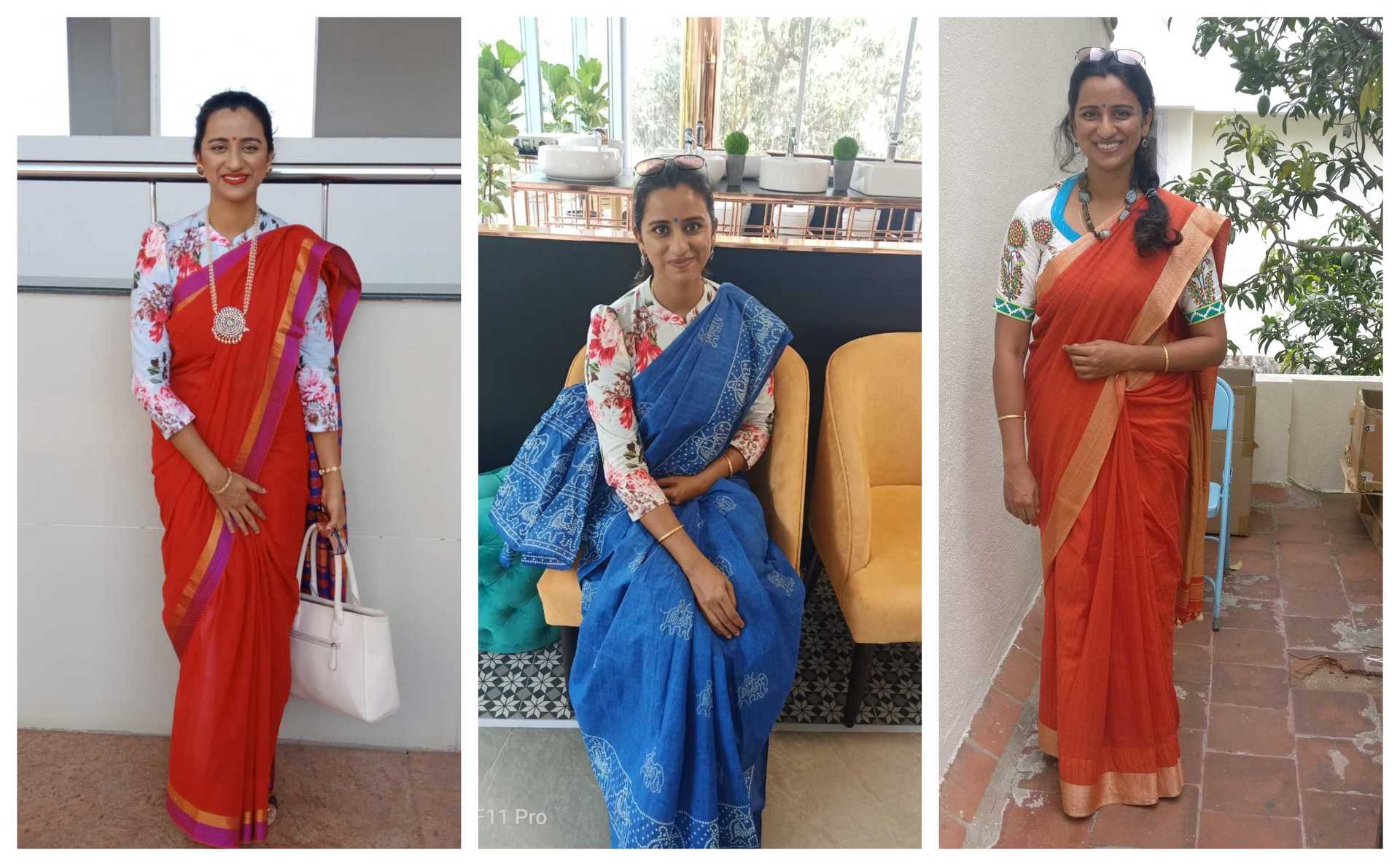 Saree 1. A bright red Mangalagiri cotton sari (Left)
Saree 2. An Indigo blue cotton saree was taken from my mother (Centre)
Saree 3: An orange soft cotton saree from Sutrakaar weavers. (Right)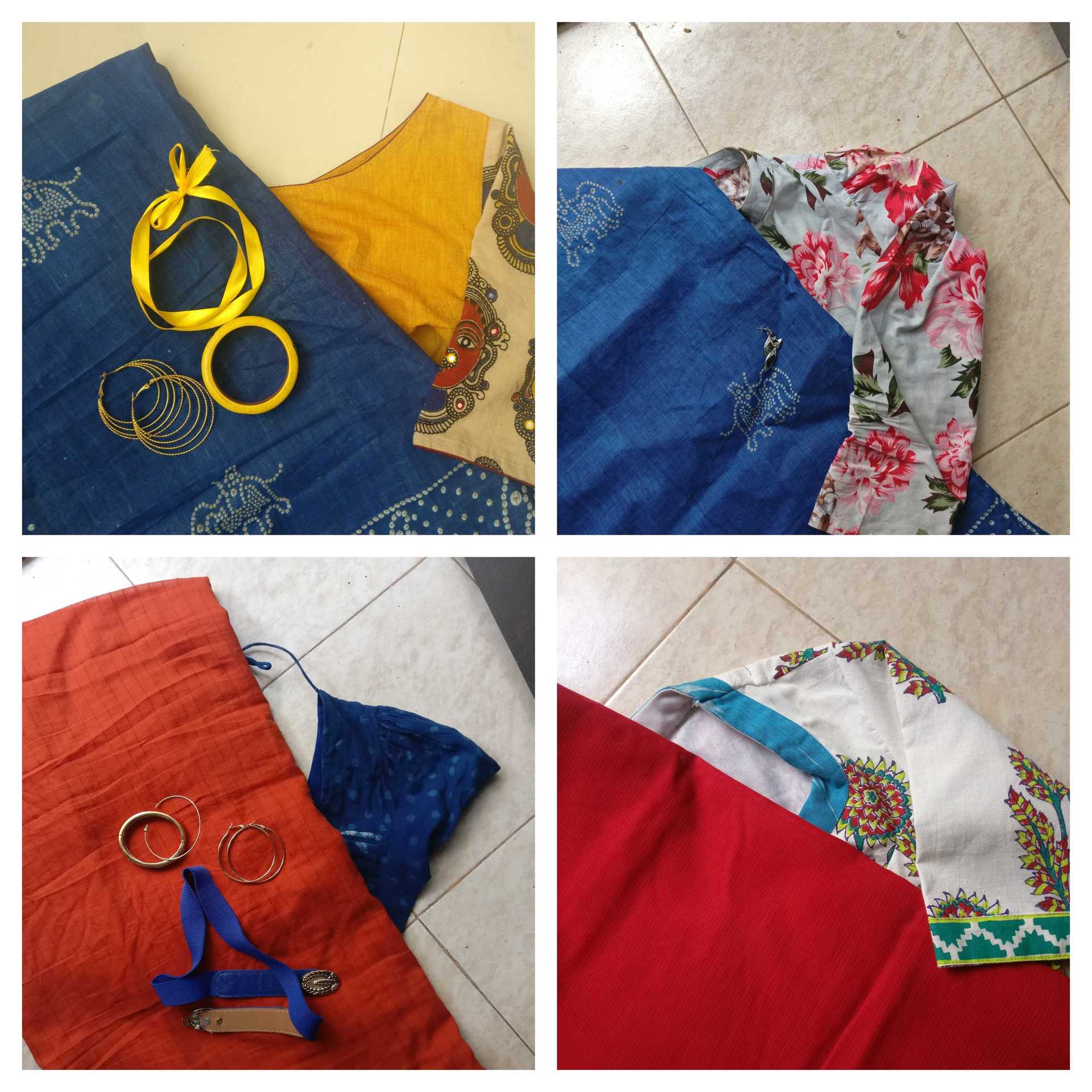 Left Top : Blouse 1: A readymade yellow with kalamkari style print on the sleeves. This is from Shruthi's fashion
Right Top: Blouse 2: Floral design stitched by Manjeri
Left Bottom : Blouse 3: Indigo blouse stitched by Manjeri
Right Bottom: Blouse 4: Ready to wear blouse from Umbara design with block-printed design.
Here are the different ways by which I styled all the pieces.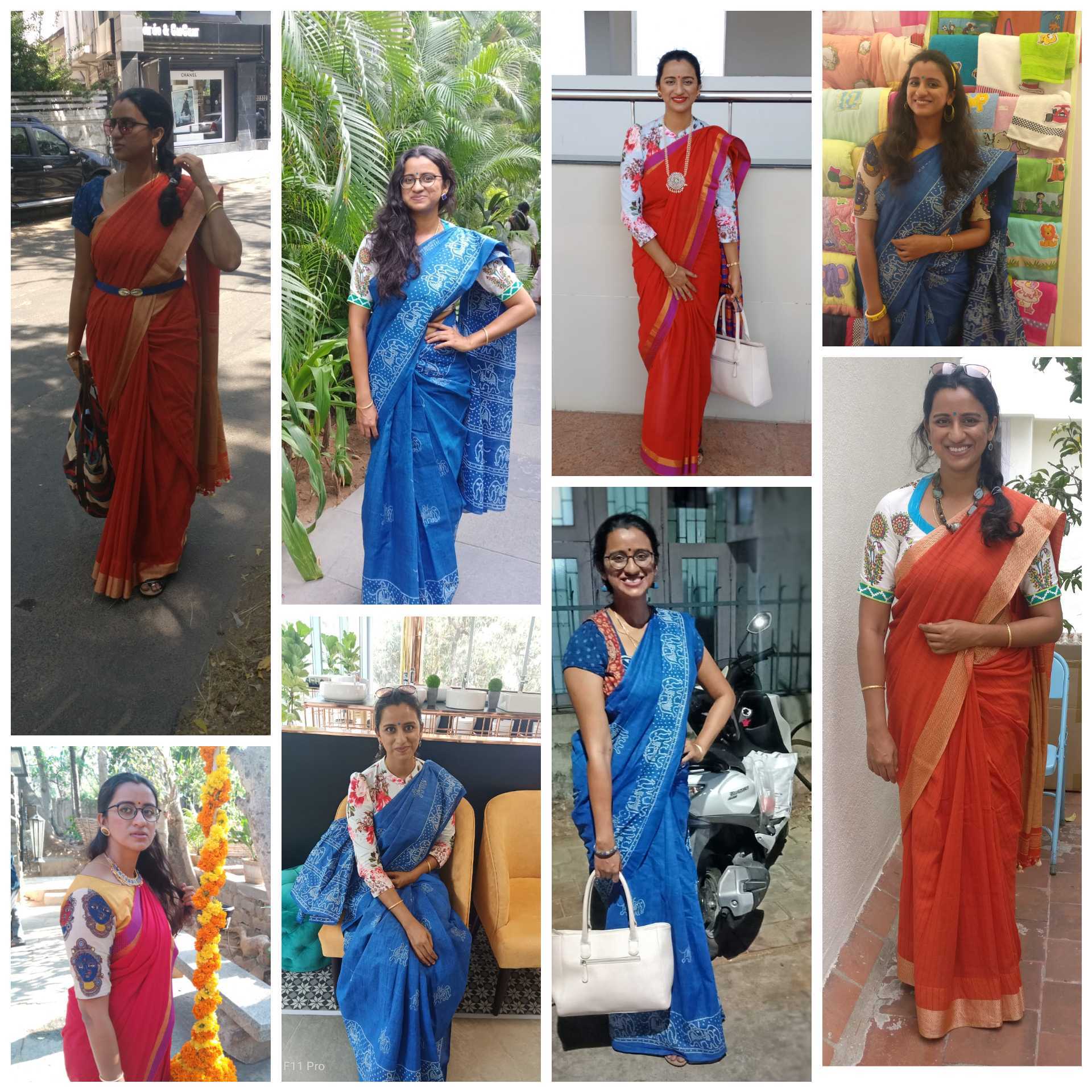 How was the experience?
It was astonishing to see how many ways I could style that simple blue cotton saree. There are certainly a number of other ways to style it, but I will save those for the future. Ii was boring to style it more than 3 times in a month. As I had already committed to wearing only 3 sarees for the month, I had to make do.
Being able to pair up blouses with sarees in combinations, that I would normally never have thought about or tried to do before was so refreshing. I really stepped out of my comfort zone with certain pairings. I also ensured that I completed the 8 saree April challenge despite having a tooth extraction and a swollen face for the entire last week of April.
More than anything I had a TON of fun and Oh my god, the amount of time I saved in getting ready was incredible. The simple act of spending time planning the saree combinations for the entire month really helped me get ready faster for events.
What do you guys think about the idea of a capsule wardrobe collection? Is it something that you have tried or would try?
Follow IshtyleAwhile on Instagram for everyday updates.
I really hope you liked this post! Let me know what you think.
misskays
🙂