A complete review of the anti-acne range + BHA serum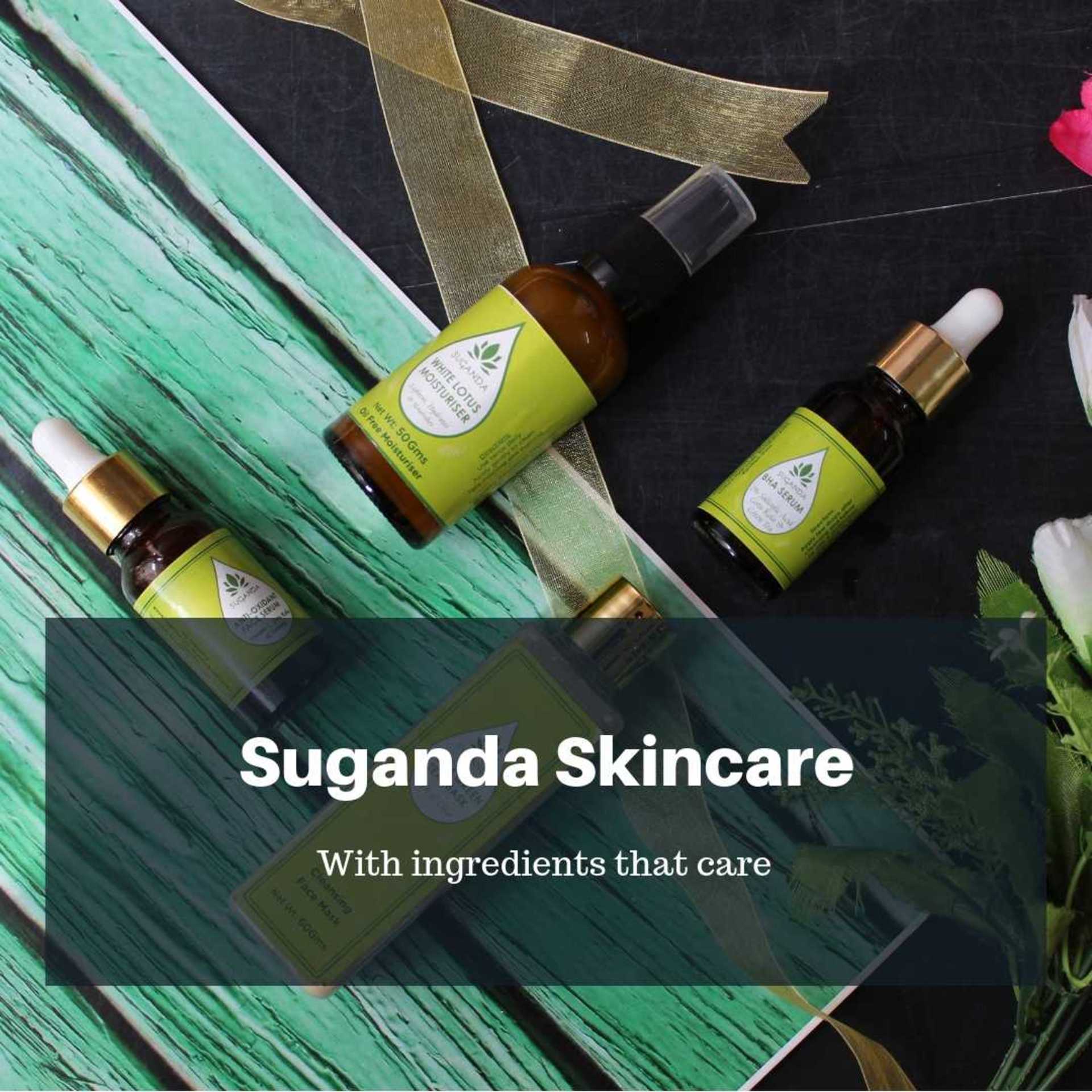 Suganda Handmade Skincare
I have been a tutor for 9 years and honestly, I don't think I have worked this hard with any batch of students. It was surprising for me that all of them continued to come for class up until a week to go for their Boards because the usual trend would be that they would become sporadic after Feb 1st. But hey, I am not complaining, it just meant that I had to give the blog a break and focus on them. I could have managed time a bit better and still kept posts going, but well, time management is something that I still working on.
While I was busy writing question papers for them to revise, I was also busy testing out some new handmade skincare products from a brand called Suganda.
Suganda created by Bindu, a mother who set out on a journey to find the right combination of ingredients to help combat her son's dry skin problems. The finest raw and organic ingredients are sourced and the products are formulated by Bindu to ensure that the combinations will only help the skin. The product range currently available includes soaps, serums, cleansers and moisturisers. Suganda is one of the first Indian brands that I found that has BHA and AHA serums are a very affordable range. If you are not familiar with BHA and AHA, then drop a comment, and I will do a dedicated post about their goodness.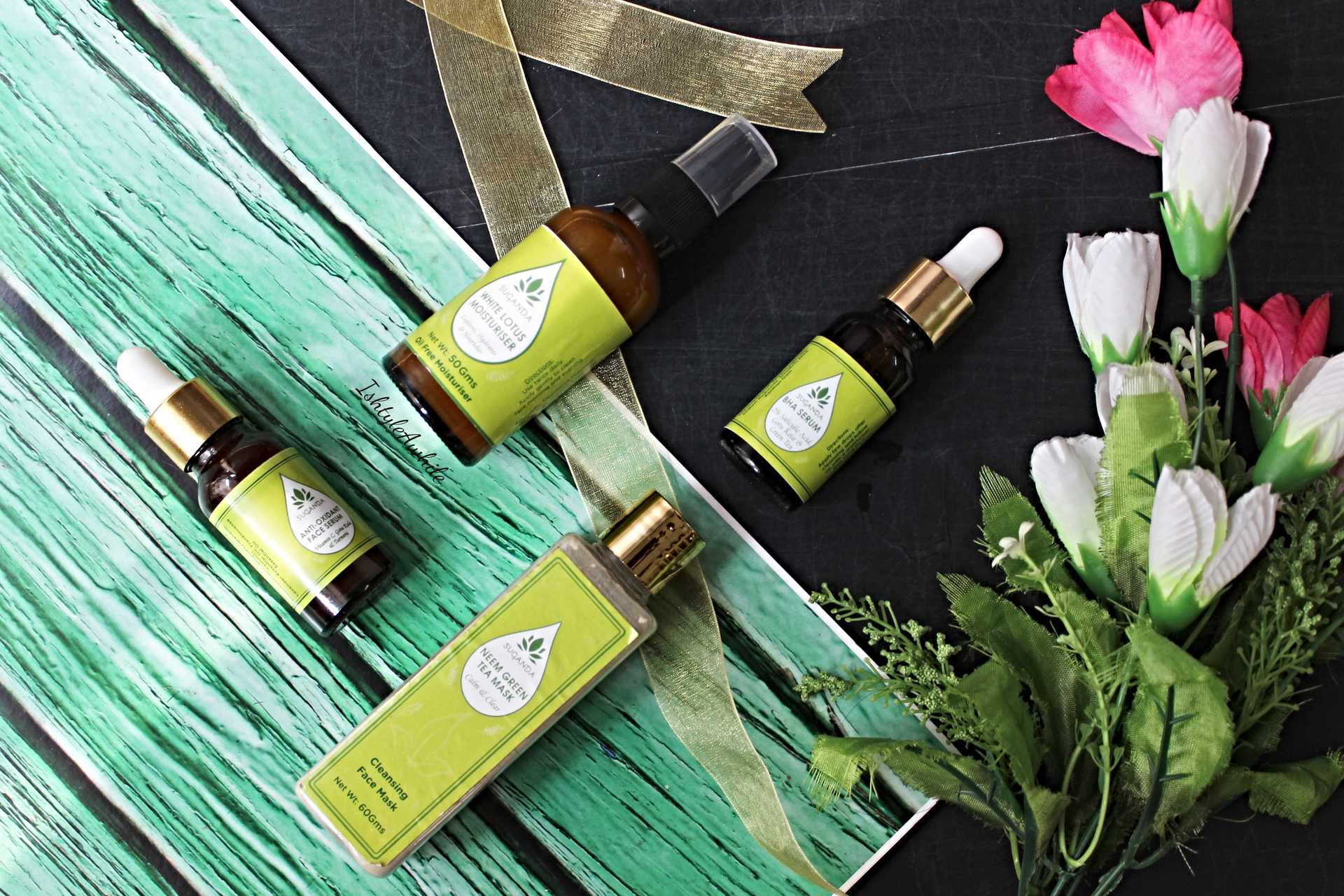 Suganda Handmade Skincare
About the handmade skincare products
Bindu was kind enough to send across an anti-acne kit + a BHA serum. The Anti Acne Kit contains – Neem Green Tea Mask, White Lotus moisturiser, and Antioxidant face serum. All the products are individually available as well. I have been using these handmade skincare products for 3 months now and am ready for a complete review.
She also walked me through how to use these products to get the maximum benefit (and my skin thanked her for that)
White Lotus Moisturizer- Priced at 750INR for 50g.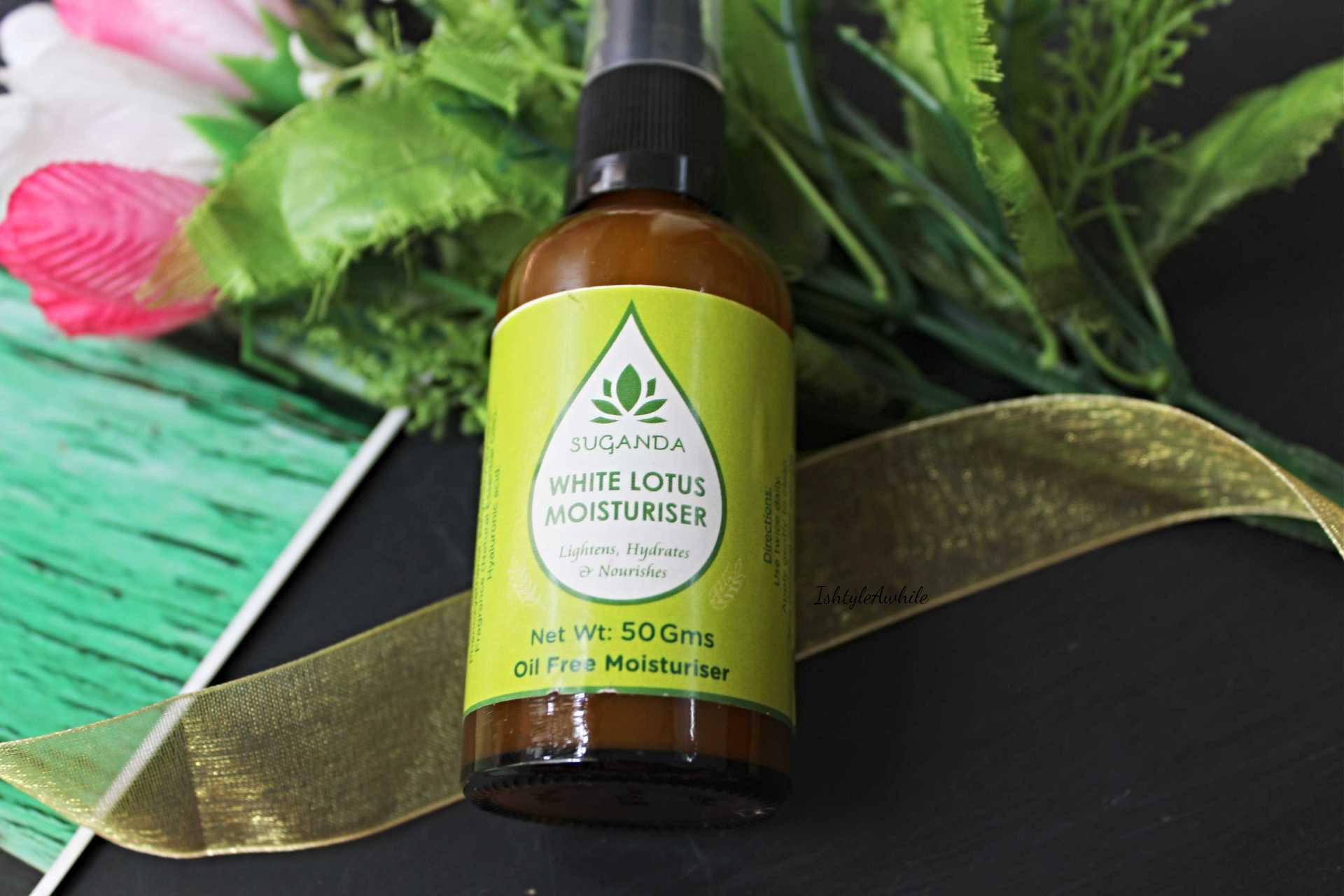 Suganda White Lotus Moisturizer
Starting with my favourite product first. This is probably one of the most talked-about handmade skincare products from this brand and also one of the best sellers. The White Lotus is a white coloured, light emulsion that is gentle and hydrating. It has a very mild pleasing scent. I started using this in the dry winter month which did not feel hydrating enough for my ageing skin. I had to layer another thicker moisturiser over it. Now the weather is transitioning into warmer weather, I find that during the day I am able to use the White Lotus Moisturiser on its own and at night I layer another moisturiser over it for a little extra nourishment. The bottle has a pump style nozzle which is easy to use and I need about 2 pumps for my entire face and neck. The only problem is it is housed in a glass bottle which may not be travel friendly.
Anti Oxidant Face Serum- Priced at 1000INR for 20ml.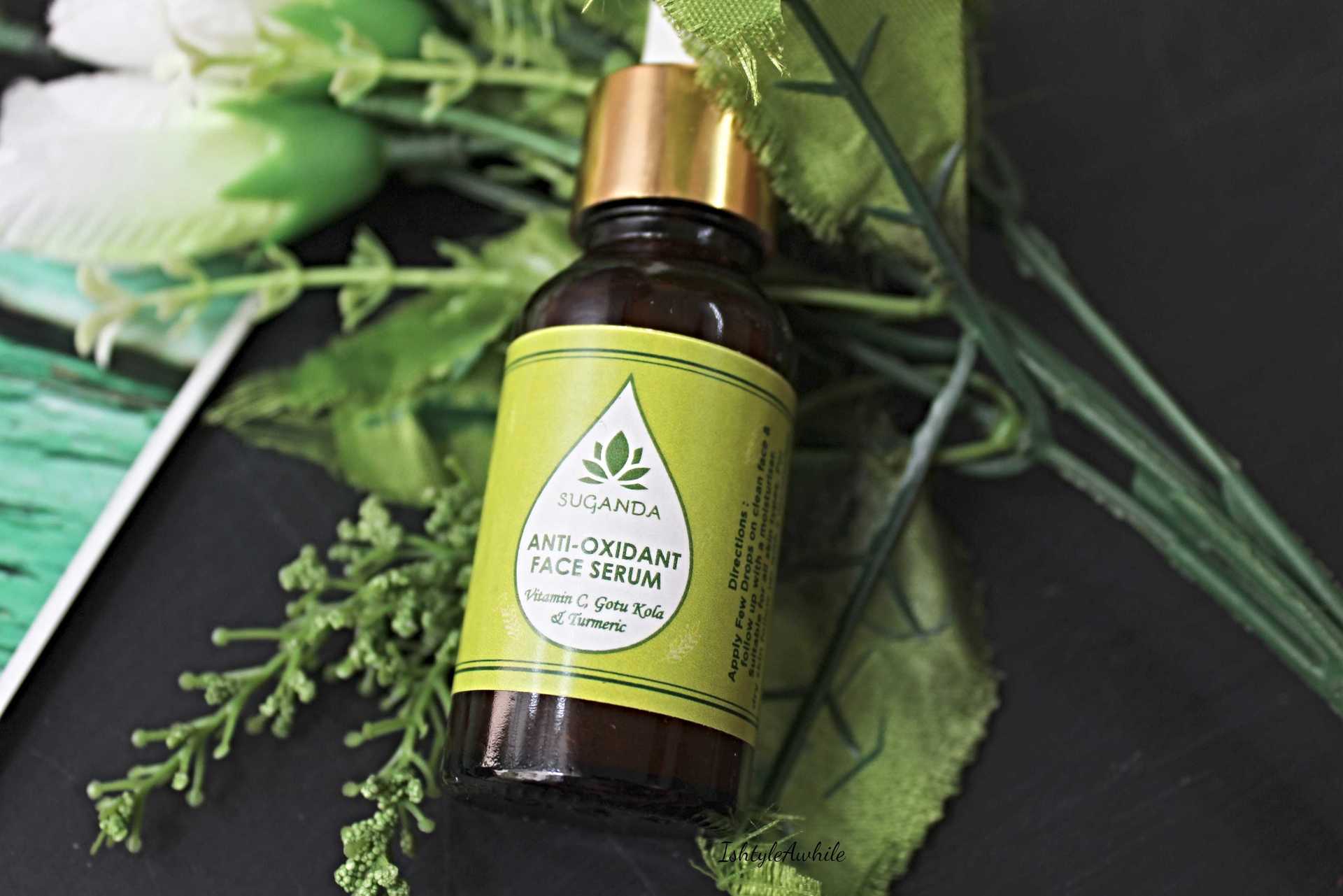 Suganda Anti Oxidant Face Serum
This serum contains Vit C, Gotu Kolu, Turmeric as the main ingredients. All the 3 ingredients are known for their antioxidant properties and ability to repair the skin. She suggests using this in the morning mixed with the moisturiser to counteract any damage by the sun.
The product has the stable form of Vit C and will not cause as much sensitivity as pure Vit C. (At least that is my understanding of it). I will suggest that you wear sunscreen if you are out in the sun a lot. There was a little bit of a breakout initially and then my skin started to settle. However, that is a normal reaction when using a product that contains Antioxidants. The skin tends to clean itself before getting better.
The serum is a translucent yellow colour serum with no distinct odour. You can see the particles of Gotu Kola and Turmeric in it. I like to shake it up a little before I mix 2 drops with my moisturiser.
BHA serum – Priced at 699INR for 20ml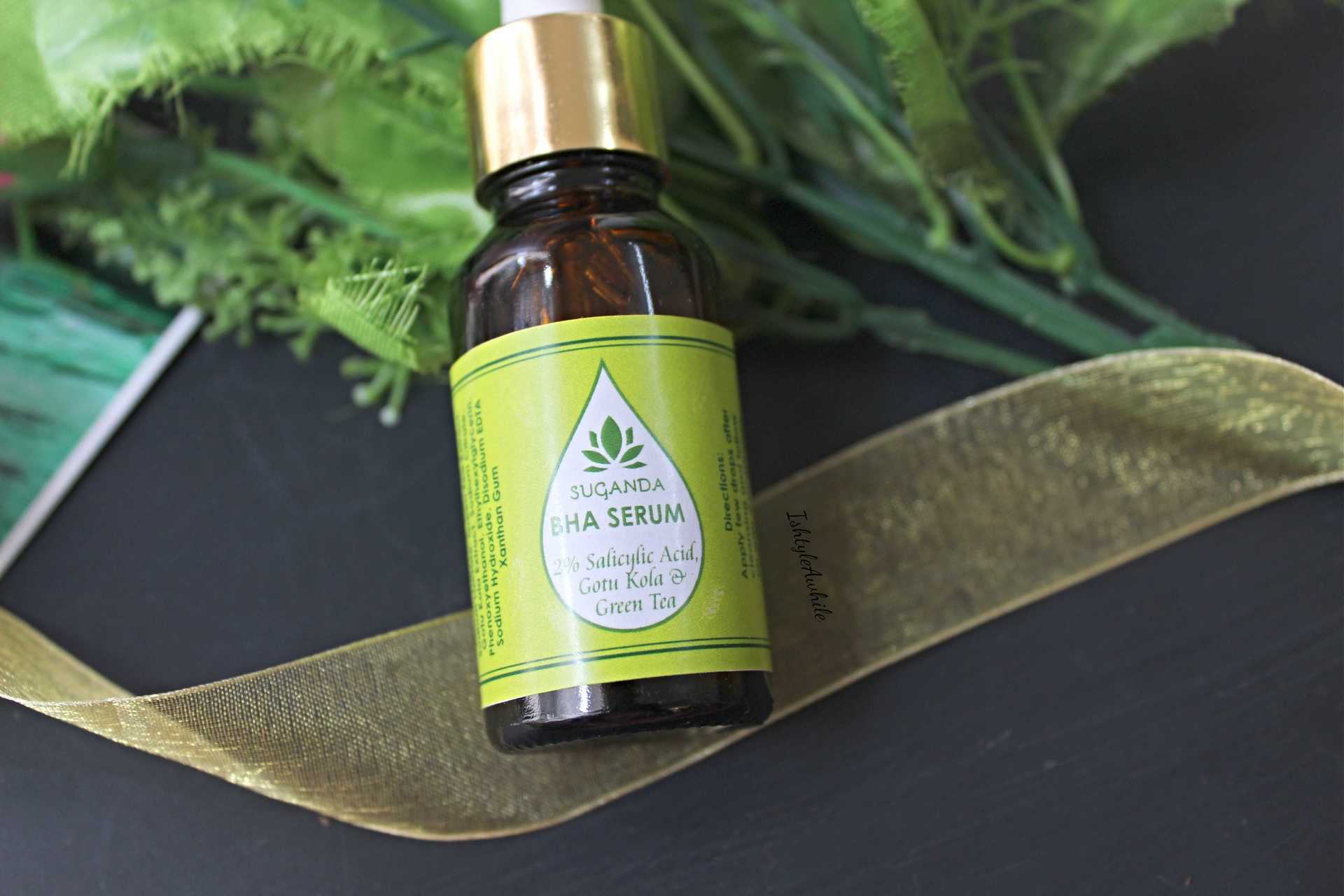 Suganda BHA Exfoliating Serum
If you are not familiar with BHA, I promise to do a complete blog post, but for now, let me just say that this is a chemical exfoliating serum. In simple terms, it helps to remove the dead skin cells from the surface of your skin and therefore also behaves as an anti-ageing component as it helps to bring out new skin cells to the surface. I use this in the night mixed with the White lotus moisturizer.
Since I am new to using a chemical exfoliant, I have been using this light yellow colour serum only on alternative nights and I use the Anti Oxidant serum on the same day in the morning. So on one day, I use no serum at all, just the White Lotus Moisturiser.
Neem Green Tea Mask-Priced at 750INR for 60g.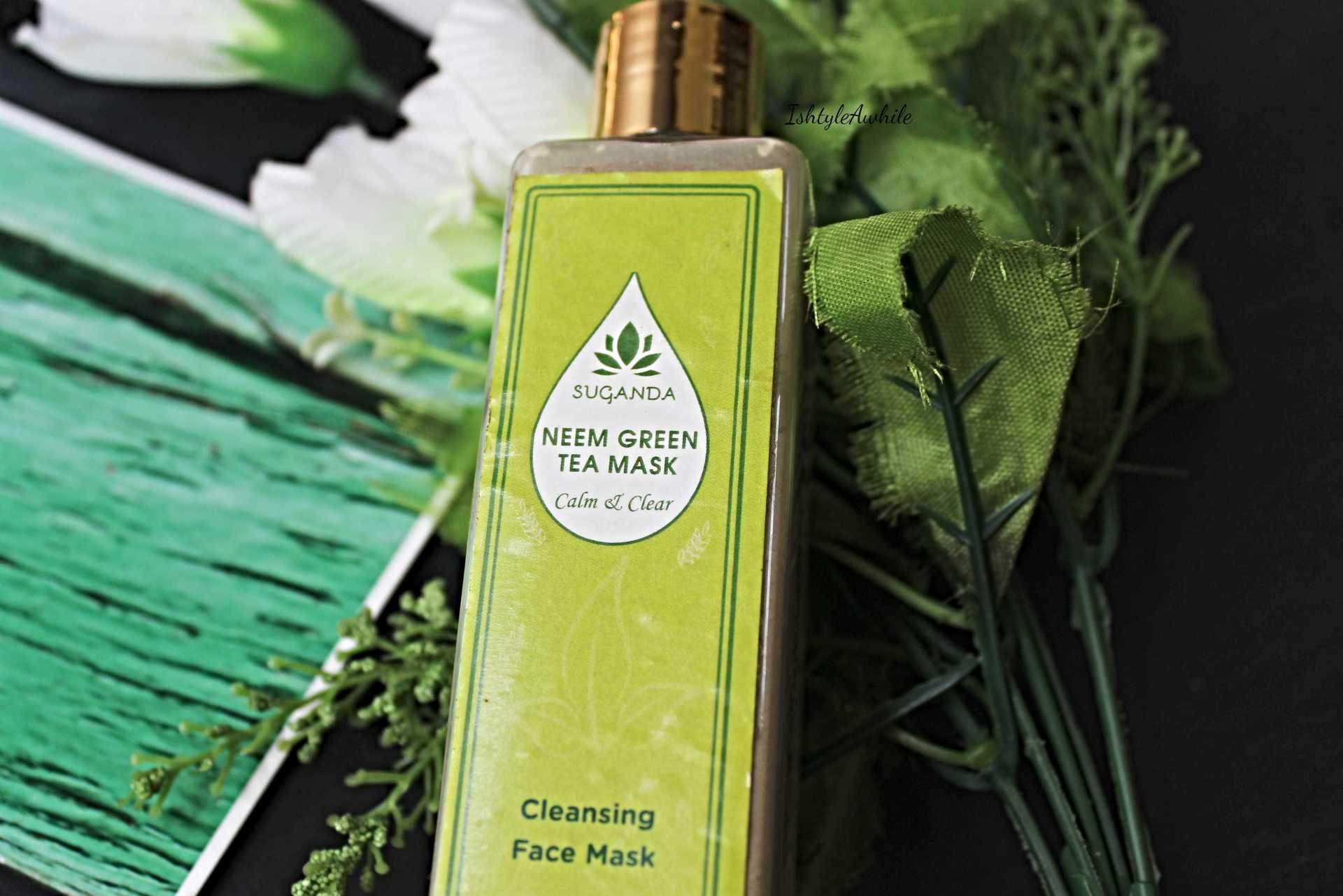 Suganda Neem Green Tea Mask
I have to be upfront and say that this is the only product that I did not use more than 3 times. It sort of broke me out in the first 2 uses and so I decided to just keep it aside. Since then I am yet to try it again. I will definitely get back to using it and update my experience here. It is however a unique product that works as a quick mask and a cleanser.
My experience.
If you read my previous post about getting the glow back to my skin, I talked about The Body Shop Vit C Glow Revealing Liquid Peel and how it helped make my skin feel smooth. It has been a few weeks since I used that and my skin feels smoother than ever. This is definitely attributed to the BHA serum and it's exfoliating in nature. The White lotus moisturiser is an absolute favourite. I find it really calming for my skin and my mind. I am not sure if the smoothness of the skin can be seen on camera, but I do know that a lot of you have noticed how good my skin has been looking on Instagram stories. The acne scarring seems to have reduced and so have the pits caused by the acne.
The Suganda serums + moisturizer have definitely helped improve the texture of my skin. Any breakouts that I do get around my the time of menstrual cycle settle down quickly and also did not seem to leave any marks behind.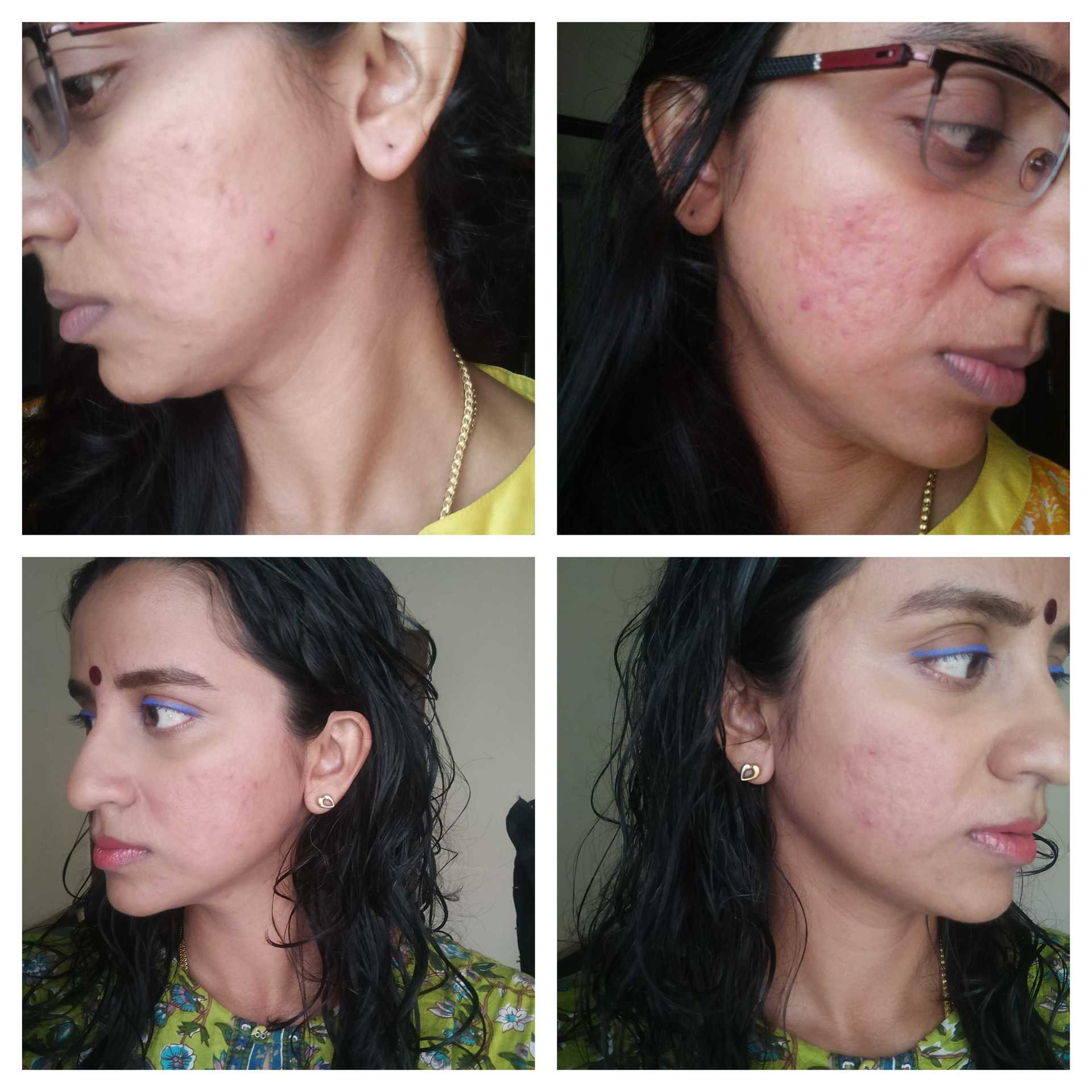 Top Pictures :Taken before I started using the handmade skincare products in Dec
1st Bottom- Pictures were taken on Feb 19th. These were taken after using the products for 3 months.
Honestly, the pictures don't do justice to how good my skin feels. You can literally see the glow on Instagram stories.
Final thoughts.
Overall, I am super happy with the way these products have been working. The BHA serum and White lotus moisturiser may become a part of my permanent skincare kit. 
One of the best things of Suganda is that they are constantly innovating and coming up with new products.
Have you guys tried Suganda skincare products? Do any of the products excite you or make you feel curious? Have you tried a BHA serum before? Drop your comments down below, I would love to hear from you! If you would like to purchase any of these products, do use my affiliate code- KRU2022. (There will be no extra cost for you, but I will get a small commission.)
miss kays
🙂